Changzhou Fengyuan Micro &
Special Motors Co., Ltd.
Add: East of Huanghe bridge, Cailing road, Qishuyan district, Changzhou city, Jiangsu province
TEL: 0086 519 88388108
FAX: 0086 519 88380578
Email: fy.kathy@fy-motor.com
This kind of stepper motor is kindly used in automative equipment. Ext. printer, scanner, camera, medical instrument, household electrical appliance.
SPECIFICATIONS:
| | | | | | | | | | | | | | |
| --- | --- | --- | --- | --- | --- | --- | --- | --- | --- | --- | --- | --- | --- |
| Model | Step Angle (Deg.) | No.of Phase | Voltage(V) | Current(A) | Resistance(Ω) | Inductance(mH) | No-load Staring Frequency(pps) | Pull-in Torque (g.cm) | Detent Torque (g.cm) | Holding Torqu(g.cm) | Leads | Wdg | Fig |
| 49BY48L02 | 7.5 | 2 | 5 | 0.9 | 5.5 |   | 180 | 260 | 350 | 1700 |   | a | 1 |
| 57BY48L01 | 7.5 | 4 | 12 | 0.57 | 21 | 24.2 | 190 | 320 | 425 | 1500 | UL 1007 26# | b | 2 |
| 57BY48L03 | 7.5 | 2 | 5.6 | 0.62 | 9 |   | 160 | 120 | 160 | 1200 | UL 1007 26# | a | 3 |
| 57BY48L024A | 7.5 | 2 | 5 | 0.4 | 12.5 | 30 | 120 | 50 | 400 | 1600 | UL 1007 26# | a | 4 |
| 57BY48L036-01 | 7.5 | 2 | 24 | 0.5(恒流@@) | 9 | 18.5 | 400 | 800 | 400 | 1500 | UL 1007 26# | a | 5 |
| 64BY32L02 | 11.25 | 2 | 4.5 | 1.25 | 3.7 | 8.6 | 120 | 450 | 1300 | 3000 | UL 1007 26# | a | 6 |
FIGURE:
Wiring Diagram:
Scan the QR code to read on your phone
We could not find any corresponding parameters, please add them to the properties table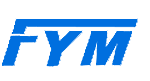 Tel: 0086 519 88388208
Fax: 0086 519 88380578
Product manager: Mr.Yu
E-mail: info@fy-motor.com
Add: East of Huanghe bridge, Cailing road, Qishuyan district, Changzhou city, Jiangsu province, China